Konsistensi Wardah sebagai brand kosmetik dalam memberikan inspirasi kecantikan bagi perempuan Indonesia terus berlanjut. Mengambil momentum pada perhelatan pekan mode terbesar di Indonesia yaitu Jakarta Fashion Week (JFW) 2019, Wardah kembali meluncurkan tren make-up terbaru dengan tema The Unstoppable You yang terdiri dari 6 inspirasi make-up look. Menghadirkan panggung beauty & fashion show yang berkolaborasi bersama 7 desainer Indonesia untuk menampilkan kreasi antara kecantikan dan mode.
Tren make-up The Unstoppable You merupakan inovasi terbaru Wardah dalam penciptaan tren dan produk kosmetik. The Unstoppable You hadir dalam 6 inspirasi make-up look. Keenam inspirasi tampilan tersebut diangkat dari gambaran kehidupan perempuan modern dan dinamika kota-kota besar dunia yaitu New York, Paris, Dubai, Seoul, Tokyo, dan Jakarta.
Keseluruhan make-up look tersebut merupakan penggunaan dari setiap keunggulan produk pada rangkaian terbaru dari lini premium Wardah yaitu Wardah Instaperfect. Wardah Instaperfect terdiri dari 11 rangkaian produk, dimana masing-masing produk diciptakan dengan pemanfaatan teknologi canggih dan penggunaan bahan-bahan alami.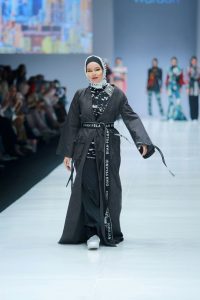 Tidak hanya fokus pada industri kecantikan saja, melalui program Wardah Fashion Journey, Wardah juga mendukung industri mode dan eksistensi desainer. Untuk keempat kalinya Wardah kembali menghadirkan panggung kolaborasi antara kecantikan dan mode di JFW. Pada tahun ini, Wardah menggandeng 7 desainer untuk tampil pada The Unstoppable You – Beauty & Fashion, mereka adalah:
Dian Pelangi :Menghadirkan 10 look dengan muse Dewi Sandra
Barli Asmara : Meghadirkan 20 look dengan muse Raline Shah
ZASHI by Zaskia & Shireen Sungkar : Meghadirkan 10 look dengan muse Nindy Parasady Harsono
Ria Miranda : Menghadirkan 10 look dengan muse Mesty Ariotedjo
ETU : Menghadirkan 10 look dengan muse Amanda Rawles